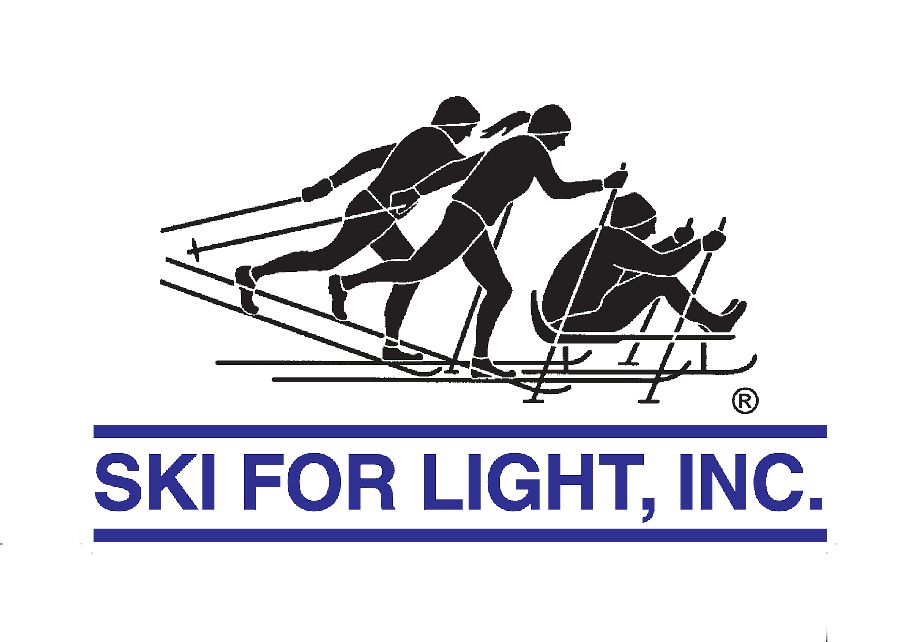 Details About the 2016 Ski for Light International Week
The 2016 Event Dates and Program Schedule
The 2016 Ski for Light International Week will be held from Sunday evening, January 24 through Saturday morning, January 30, 2016. First- and second-year guides will need to arrive one day early, by Saturday afternoon January 23, for guide orientation and training.
Please be aware that:
The traditional Sunday to Sunday seven-day SFL week has been shortened to a Sunday to Saturday six-day event for 2016.
The week has been shortened for 2016 because trail congestion at Shanty Creek Resorts on weekends makes it unwise and unsafe to attempt to hold the race and rally on the usual Saturday, hence the race and rally will be held on Friday in 2016. This allows the week to be shortened by one day, with Saturday departure, as a test of whether or not a shorter event week, with the corresponding lower cost for the week, would be preferable for most participants. This is a one year test, to be thoroughly evaluated after the end of the 2016 event.
While the SFL week will conclude on Saturday morning, some attendees may choose to stay over one or more additional days as has sometimes been done in the past. Arrangements for additional nights at Shanty Creek can be made at SFL room rates through your applications coordinator. The resort's many regular facilities (cross-country skiing, downhill skiing, snowshoeing tubing, etc.) will be available to those staying over. In addition, those staying over could take advantage of additional activities such as sleigh rides, dog-sled rides and snowmobiling that are only available at Shanty Creek Resorts on Saturdays. Those staying over will be responsible for arranging activities and for all costs associated with the additional time including room, meals, activities, and transportation from the hotel to the airport.
The Location
The 2016 Ski for Light event will be held on the grounds of Shanty Creek Resorts in Bellaire, Michigan. Bellaire is located in Northwest Lower Michigan, 40 miles from Traverse City, 100 miles south of the Upper Peninsula, and 250 miles north of Detroit. View or download a map showing the location of Shanty Creek Resorts
Getting to Bellaire
Unless you will be driving to Bellaire, you will want to fly into either the Traverse City airport or the Grand Rapids airport for your trip to Ski for Light. Traverse City is 40 miles from Shanty Creek Resorts, while Grand Rapids is 160 miles away. Traverse City is certainly a closer airport, but Grand Rapids is a larger airport, with mor flight options for your trip. Free shuttle bus service will be provided by SFL from and to both airports, on designated days and at designated times. Please read the 2016 Arrival and Departure Information page carefully before making your travel plans.
Shanty Creek Resorts
Shanty Creek Resorts is a 4,500 acre year-round recreational complex that includes three separate lodging and entertainment villages, a 30 kilometer cross-country trail system, two downhill ski areas, five terrain parks, a multi-lane tubing hill snowshoe trails (rentals available), an outdoor ice-skating rink (no rentals), and four golf courses. Shanty Creek Resorts is rated as the best outdoor family recreation resort in the Midwest. View or download a map of Shanty Creek Resorts grounds and facilities
Our hotel for the week will be the Lakeview Hotel and Conference Center in Summit Village. situated atop Summit Mountain overlooking Lake Bellaire and the slopes of Summit Mountain, the Lakeview has 183 classically appointed guest rooms, a full-service restaurant, lounge and bar, over 12,000 square feet of flexible meeting and event space, indoor and outdoor pools, and a 3,000 square foot fitness center and spa. Here are photos and videos of many of Shanty Creek's facilities and amenities.
In the unlikely event that you run out of things to do at Shanty Creek Resorts, the town of Bellaire contains several restaurants and the lively and popular Short's brew pub The resort shuttle will take you, on an on-call basis, the four miles into town and then pick you up later in the evening.
Cross-Country Skiing
The trails that we will ski at Shanty Creek Resorts in 2016 will offer a quality ski experience for everybody. The 5 kilometer course will be gently rolling. It will be an enjoyable, welcoming trail for beginners as well as a place for experienced skiers to improve their skills. The 10 kilometer trail will incorporate more hills and a bit more challenge for those looking for that.
These trails will differ significantly from those that we skied at the Shanty Creek resorts when SFL was last there in 2013. These changes are due in part to changes at the resort and also due to our desire to offer a different skiing experience. Many found the 2013 trails to be a little too challenging.
The resort has changed much of the indoor spaces at the Cedar River Village that we used as a trailhead and lunch facility then. Where we ate lunch and stored skis is now part of the large resort-wide ski rental shop for both downhill and cross-country. Many of the trails that we skied are now dedicated to snowshoeing and fat tire (snow) bikes.
SFL will be using the nearby Schuss Village at Shanty Creek as our trailhead and lunch spot. The terrain south of the Schuss Village trailhead traversed by the resort's 5K Pine Cone Trail is gently rolling and suited to our needs. The 10K will utilize much of the Pine Cone Trail with additional segments providing more hills.
As always, the SFL 5 and 10 kilometer trails will be well-marked in 2016. While our two trails will not exactly correspond to any of the trails indicated on the Shanty Creek Trail Map you may find it imformative to examine the map of the entire trail system for perspective.
Meals During The Week
At Ski for Light all meals are group meals, meaning meals with a fixed menu and in a location apart from other guests, as follows:
Breakfast from Monday through Friday is a "distributed buffet", which means a number of items pre-set on each table, such as hard boiled eggs, yogurt, granola and so forth, for those desiring a lighter breakfast, and two to four hot food stations that offer items such as scrambled eggs, oatmeal or cream of wheat, which rotate from day to day. Breakfast on Saturday is a continental breakfast.
Lunch each day is a buffet at Eivan's Cafe in Schuss Village, near the ski trails. The buffet includes hot entrees, sandwiches, soup and similar items.
Dinner each evening is a served, plated meal. You may select either a standard menu, which includes among other foods red meat, seafood or poultry for some meals, or a pescatarian menu, which includes among other foods seafood, legumes, soy, dairy products or eggs for some meals, but no red meat or poultry at any meal. You may also indicate if you prefer that your menu choice for the week be gluten-free. Attendees must choose one menu plan for the entire week, with their choice noted to the wait staff by the color of the name tag that they must wear at dinners.
Those wishing an alternative menu will need to provide their own supplements.
Cost For The Week
The total cost of the week is $790 for double-occupancy or $1,140 for single-occupancy. This amount includes room and all meals from Sunday evening January 24 through Saturday morning January 30, round-trip transportation between the Traverse City or Grand Rapids airports and Shanty Creek Resorts, (at designated times on specific days), round-trip transportation between the hotel and ski area each day, all trail fees, and all afternoon and evening programs and activities. Cross-country skis, boots, and poles will be provided free of charge to first-time blind/visually-impaired participants. The cost of transportation from home to and from Traverse City or Grand Rapids is the responsibility of the participant.
Partial stipends based on financial need are available for guides and first-time and second-time visually- or mobility-impaired participants.
Full payment is due from all accepted applicants by December 1, 2015.
Application Deadline and Acceptance to the Week
We are continuing to accept guide applications for the 2016 event, and in fact could use a few more guides for the week. We are also continuing to accept applications from Visually- or mobility-impaired applicants, but such applicants should know that we will be able to accept them only if enough additional guides apply in the remainder of November and into December.
First-Time Attendees
If you have never before attended a Ski for Light event, or want a refresher on how the week works and what it is all about, and have not already done so, please read Information for Prospective First-Time Attendees Also please be sure to read Frequently Asked Questions from Prospective First-Time Attendees for the answers to many commonly asked questions from people who have not attended before. Then proceed to the application forms for the 2016 event below.
No Physical Exam Is Required
Each applicant is expected to make his/her own informed decision about the advisability of participation, taking into account his/her individual overall health and the physical demands and risks of cross-country skiing and of the Ski for Light program.
Application Forms
Please read the Frequently Asked Questions carefully, as they include much information that is specific to the 2016 event. Then proceed to complete and submit your Application form. We look forward to seeing you in Michigan.
Information for Accepted Applicants
If you have received a notification of acceptance to the 2016 Ski for Light event, please proceed to the Information for Accepted Applicants page. Here, you may pay your event fee online with your Visa or Mastercard, read the 2016 Waiver of Liability and send us your acceptance of the terms described, read the travel information for the 2016 event and send us your travel plans, and read about special-interest sessions and let us know if you would like to lead such a session this year..
Additional Information and Resources for Attendees
The Ski for Light Guide Handbook is available for reading or downloading at www.sfl.org/event/sflguidehandbook14.pdf. The twenty-four page booklet contains a wealth of general skiing tips, SFL-specific terminology, a standard progression of instruction for beginners, and other information to help new guides approach their first event with confidence, and to help everyone ski together more safely and enjoyably.
---
Return to SFL Home Page