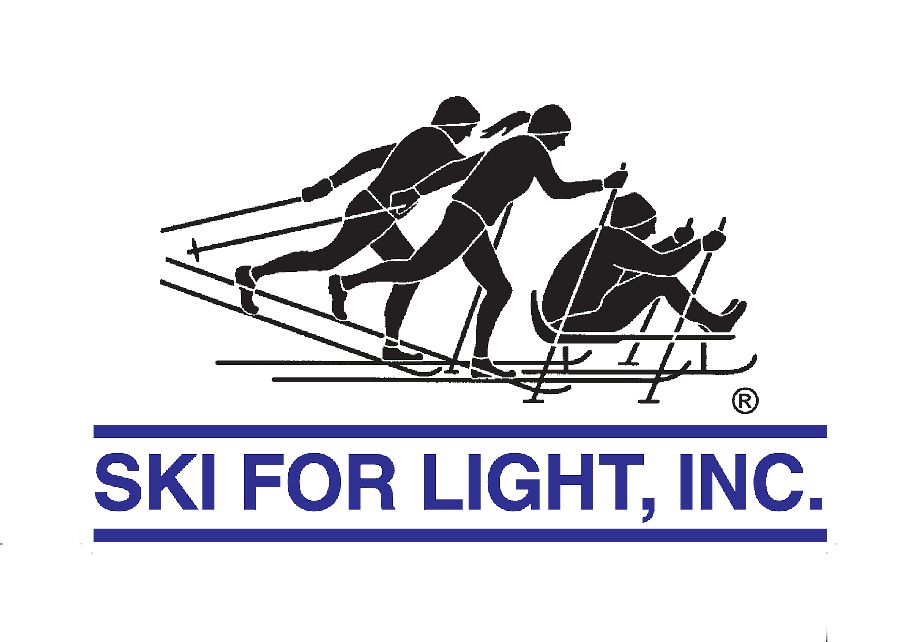 The Details of the 2015 Ski for Light International Week
The Dates
The 40th annual Ski for Light International week will be held from Sunday evening, January 25 through Sunday morning, February 1, 2015. First- and second-year guides will need to arrive one day early, by Saturday afternoon January 24, for guide orientation and training.
The Location
The 2015 Ski for Light International week will be held in Granby, Colorado. We will stay at the Inn at Silver Creek and ski at nearby Snow Mountain Ranch.
Granby is located near Winter Park, just west of the Continental Divide, at an elevation of nearly 9,000 feet, which makes lots of snow and good skiing conditions almost a certainty.
Getting to Granby
Unless you are driving to Granby, you will want to fly into and out of the Denver International Airport for your trip to Ski for Light. The Denver Airport is about 115 miles from Granby, a trip that usually takes from 2.5 to 3 hours depending on traffic and the weather.
You will want to land in Denver by 1:30 pm if you wish to take the Ski for Light chartered bus to the Inn at Silver Creek.
The trip from the airport will take you westward on I-70 to and through the city of Denver, and then onward and upward into the Front Range of the Rocky Mountains. In Clear Creek Canyon you will exit onto U.S. Highway 40, and then climb steadily upward on switchbacks until you reach the summit of Berthoud Pass at an elevation of 11,307 feet. This route to the Frazier Valley was discovered by Edward Berthoud and Jim Bridger in 1861 when they were searching for a route through the mountains for the railroad. After passing the summit you will drop down into the valley and pass the Winter Park Ski Resort before arriving in Granby and reaching the Inn at Silver Creek.
The Event Hotel
The Inn at Silver Creek is a large property containing more than 200 guest rooms, an indoor/outdoor swimming pool, indoor and outdoor hot-tubs, a fitness center, several shops, a bar, a restaurant, and extensive meeting and banquet space that is more than sufficient to meet our needs. The Inn has been the event hotel for seven previous SFL events, and has always been enjoyed by participants.
The Inn is not a hotel in the traditional sense, since almost all of the individual guest rooms are privately owned. Some of them are owner-occupied or on long-term lease, while more than 150 are made available to renters or groups like SFL by their owners through the firm that manages the Inn for the owners. What this means in practical terms is that the rooms vary in decor and amenities to some extent, depending on the desires of the owner. The room descriptions that follow are generally true for most units, but please expect some variation from one unit to the next.
There are three types of rooms available to SFL for the week, as follows:
Standard rooms are basic hotel rooms that contain a king or queen size bed.
Studio rooms usually contain a murphy pull-down queen-size bed, queen pull out sleeper sofa, living area with fireplace, tables and chairs,, kitchen facilities, microwave and refrigerator.
Loft rooms are two level rooms with a king-size bed up a spiral or straight staircase and a studio, as described above, downstairs.
To view photos of the Inn and its facilities please visit the Inn at Silver Creek photo gallery
The Ski Area
Snow Mountain Ranch is a large year-round outdoor recreational complex that is part of the YMCA of the Rockies. Located on the property is a 100 kilometer cross-country trail system that is consistently rated as one of the top ten Nordic venues in the country. Trails are wide and wonderfully well groomed, and the Nordic Center is large and comfortable. Visit their website for more information and to visit their image gallery.
By way of background, the site was originally the location of a high-country ranch, the Just Ranch, that was established in 1895. Many of the Just Ranch buildings are still standing, near the Nordic Center, as a reminder of what life was like in this rugged country a century ago. The YMCA of the Rockies acquired the property in 1966 and created the recreational mecca that it is today.
Meals During The Week
At Ski for Light all meals are group meals, meaning meals with a fixed menu and in a location apart from other guests, as follows:
Breakfast from Monday through Saturday is a "distributed buffet", which means a number of items pre-set on each table, such as hard boiled eggs, yogurt, granola and so forth, for those desiring a lighter breakfast, and two to four hot food stations that offer items such as scrambled eggs, oatmeal or cream of wheat, which rotate from day to day. Breakfast on the final Sunday is a continental breakfast.
Lunch each day is an all-you-can-eat buffet at the Skinny Ski Cafe on the upper level of the Snow Mountain Ranch Nordic Center. The buffet includes hot entrees, sandwiches, soup and similar items.
Dinner each evening is a served, plated meal. SFL strives to provide a healthy, balanced diet that is high in complex carbohydrates derived from fresh fruits and vegetables, whole grains and dairy products and low in fat. The only two meal plans that are available for the week are the Standard menu plan, which includes red meat, poultry and fish, and the Pescatarian menu plan, which includes eggs, dairy products and fish as well as other sources of protein (legumes and soy) but no red meat or poultry. Attendees must choose one menu plan for the entire week, with their choice noted to the wait staff by the color of the name tag that they must wear at dinners.
Alternative dinner menu options will not be available at the Inn at Silver Creek. In some prior years the event hotel was able to satisfy those desiring an alternative menu, such as vegetarian or gluten-free, but This will not be possible this year. Those wishing an alternative menu for dinner will need to provide their own supplements.
Cost For The Week
The total cost of the week is $850 for triple-occupancy, $900 for double-occupancy or $1,225 for single-occupancy. This amount includes room and all meals from Sunday evening January 25 through Sunday morning February 1, round-trip transportation between the Denver airport and the Inn at Silver Creek (at designated times on specific days), round-trip transportation between the hotel and ski area each day, all trail fees, and all afternoon and evening programs and activities. All meals are group meals. Cross-country skis, boots, and poles will be provided free of charge to first-time blind/visually-impaired participants. The cost of transportation from home to and from Denver is the responsibility of the participant.
Partial stipends based on financial need are available for guides and first-time and second-time visually- or mobility-impaired participants.
Full payment is due from all accepted applicants by December 1, 2014.
Application Deadline and Acceptance to the Week
Applications for SFL 2015 are no longer being accepted.
No Physical Exam Is Required
Each applicant is expected to make his/her own informed decision about the advisability of participation, taking into account his/her individual overall health and the physical demands and risks of cross-country skiing and of the Ski for Light program.
First-Time Attendees
If you have never before attended a Ski for Light event, or want a refresher on how the week works and what it is all about, and have not already done so, please read Information for Prospective First-Time Attendees Also please be sure to read Frequently Asked Questions from Prospective First-Time Attendees for the answers to many commonly asked questions from people who have not attended before. Then proceed to the application forms for the 2015 event below.
Application Forms
Please read the Frequently Asked Questions carefully, as they include much information that is specific to the 2015 event. Then proceed to complete and submit your Application form. We look forward to seeing you in Colorado.
Information and Forms for Accepted Applicants
If you have been notified by your applications coordinator that you have been accepted as an attendee for the 2015 event, you can take care of a number of items related to your attendance on the Information and Forms for Accepted Applicants page. You can make your payment online with your credit card, sign up to lead a Special-Interest session, and let us know how and when you will be arriving in Colorado.
Please also visit the 2015 Event Podcast Center to hear MP3 recordings about various aspects of the week that should be both informative and interesting to all event attendees.
Updated SFL Guide Handbook
An update of the Ski for Light Guide Handbook for 2014 - 2015 is now available for reading or downloading at www.sfl.org/event/sflguidehandbook14.pdf. The twenty-four page booklet contains a wealth of general skiing tips, SFL-specific terminology, a standard progression of instruction for beginners, and other information to help new guides approach their first event with confidence, and to help everyone ski together more safely and enjoyably. all registered guides for the 2015 event in Granby will receive a printed copy in the mail.
---
Return to SFL Home Page