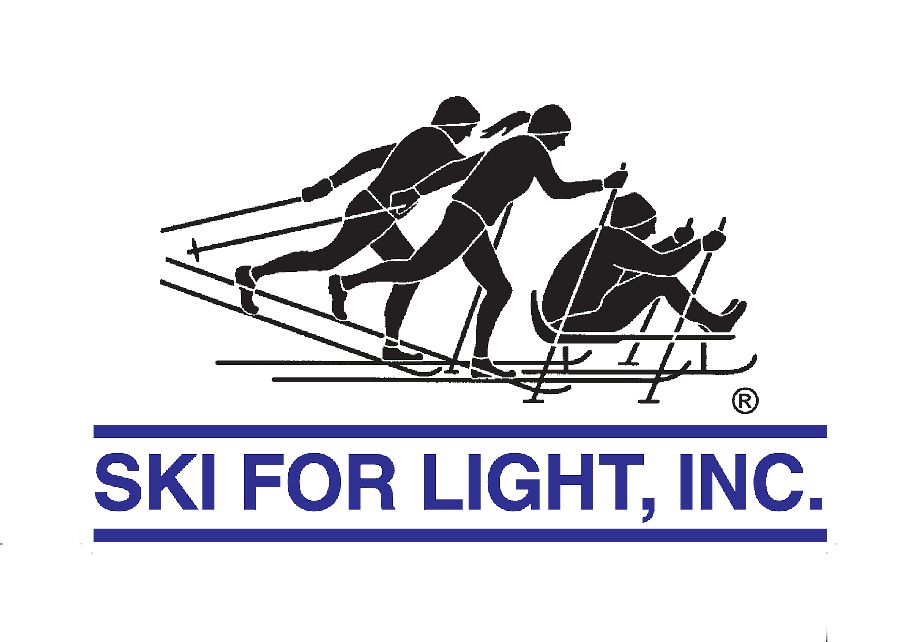 What is Ski for Light?
Ski for Light, Inc. is an all-volunteer, non-profit, organization founded in 1975. The mission of the organization is to teach blind, visually- and mobility-impaired adults the sport of classic cross-country skiing, to give participants who have already mastered the basics the chance to improve their skills and endurance, and to enable participants to just have fun on the snow.
Each year Ski for Light, Inc. conducts a week-long event that attracts upwards of 300 participants and guides. The location of the event changes from year to year in an effort to spread the Ski for Light philosophy and idea to as many parts of the country as possible.
During the Ski for Light week each disabled skier is paired for the entire week with an experienced, sighted, able-bodied cross-country skier who acts as ski instructor and guide. The disabled person skis in tracks or grooves in the snow, while the guide skis in a parallel set of tracks. The guide informs the skier about upcoming changes in the terrain and trail, offers instructional tips and suggestions, support as necessary, encouragement, and describes the countryside.
The visually- and mobility-impaired adults who attend each Ski for Light week come from all over the U.S. and from several foreign countries. Many of them come to Ski for Light with a desire to become more physically active and fit, and to find recreational opportunities that are lacking at home. Most of these skiers discover, in the process of learning how to cross- country ski, that they can accomplish much more than others have told them, and much more than they themselves believed. They leave Ski for Light with a sense of accomplishment and motivation that carries over to every aspect of their lives back home.
The volunteer guides who attend Ski for Light are a very special group of people. They pay the same event fees as disabled skiers so that they can share a favorite activity with someone who would otherwise not have the opportunity to participate. Most of these guides discover that in the process of giving of themselves they are getting as much or more back in return. Many of them return to each event, year after year.
Ski for Light relies on the generosity and support of individuals, corporations, fraternal groups and foundations to keep the cost of each event affordable for all who wish to attend. If you would like to financially support the program go to Ways to Donate.
If you are interested in attending a future event as a guide or participant, or need additional information about the program, send an e-mail message to: info@sfl.org, or write to 1455 w. Lake St., Minneapolis, MN 55408.
---
Return to SFL Home Page