Raymond "Bud" Keith 1939 – 2008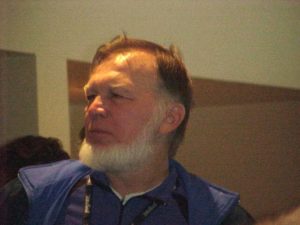 From the SFL Bulletin: Summer 2008
Remembering Bud Keith
Compiled by Judy Dixon and Vicki Post
Raymond (Bud) Keith was born in Washington, DC, November 20, 1939 and died June 14, 2008. He became totally blind at age eleven as a result of a playground accident. His insatiable curiosity, intense interest in the people around him, and an amazing capacity to remember details were all traits that characterized Bud's life and they characterized his involvement with Ski for Light as well.
*** insert read more tag ***
Bud is the only person to attend every Ski for Light International event, from 1975 in Breckenridge, Colorado, to 2008 in Bend, Oregon. He served as SFL President from 1981 to 1988 and from 1994 to 1996. He never held any other office and never held an event job.
Many of the things we do today at Ski for Light were initiated by Bud's creativity at a time of organizational crisis. In 1987, when trail conditions had deteriorated to the point that holding a ski race was deemed unsafe, Bud came up with the idea of holding a rally instead. When the Board of Directors was suffering from not enough new members, Bud came up with the idea of an "Australian" ballot, ranking every person running for election rather than each person receiving a simple majority.
There were many other facets to Bud's life. Those of us who knew him through Ski for Light would often hear him mention that he had been a Peace Corps volunteer in Panama in the 1960's but did we know that he worked for the next forty years as a leader in the returned Peace Corps Volunteer community? For the past 15 years, Bud has been the president of the Peace Corps Panama Friends, the alumni group for Peace Corps volunteers and staff who served in Panama.
Bud was diagnosed with prostate cancer in 1995. Because it had already metastasized to his bones, surgery was not an option for him. Bud approached the undertaking of being a cancer survivor in the same way that he approached everything else–he gathered all the information he could (fortunately, by then, the Internet had been invented); he contacted the most knowledgeable people; and he got involved. His involvement in his own treatment gave him 13 years of life when his prognosis had been three to six, and with a quality of life that was very high right to the end.
Those of us lucky enough to know the younger Bud knew a man full of energy and tireless capacity for getting the job done. There was no hour of the day or night that Bud wasn't ready to brainstorm about a problem, participate in a conference call, or just lick envelopes if it meant making the Ski for light program better. Ski for Light was a life's passion for Bud and Bud's passion for Ski for Light will live in the organization's essence for many, many years to come.
Bud, we will miss you always.
From Judy Dixon
I don't remember when I met Bud. He was at my first Ski for Light in 1977. When I moved to Washington in 1981, I saw him more often. We had dinner together every month or so and talked on the phone nearly every day. We consulted each other about Ski for Light no matter which one of us was President at the time. Bud was a walking database of local information–whether it was where can I get a railing made for my back porch or where do they have good seafood, Bud always knew. We laughed, we argued, we enjoyed the detail in things.
from Tor Dahl
The death of Bud Keith was a reminder that towering figures in our midst are not immortal, and that we must find ways to survive as seemingly indispensable leaders fall away.
Like Bud, I was intensely involved with the start-up of Ski for Light. I was elected by SFL, together with Grethe Winter, to serve as guides to Ridderrennet (I guided Mary Kozy). I was a co-author of that notorious song that somehow has survived a quarter of a century in SFL ("Those were the days my friends…."). Bud, Billie Jean, and Judy Dixon last sang it together with me in Minneapolis at the Ichiban Japanese Steakhouse in July.
My last conversation with Bud was about the future of Ski for Light. Bud was one of the superstars of SFL who laid the foundation of what is now a mature organization.
Raymond Fred (Bud) Keith
Accidentally Blinded, He Became Tireless Champion for Disabled
By Adam Bernstein, Washington Post
Sunday, Jun 29 2008
Bud Keith was a high school wrestler, a championship bowler and a Peace Corps volunteer in Panama. In his early 40s, he twice tried to ascend Mount Rainier, the Washington state volcano that is one of the highest peaks in the country.
Keith, who was blind, once lamented, "Too many disabled people are out of shape." So he joined a group that uses outdoor sports to help rehabilitate the physically handicapped and helped build Ski for Light, an organization for blind skiers.
Keith, 68, an Arlington County [Virginia] resident who died June 14 [2008] of prostate cancer, defined himself through physical independence as well as mischief and irascibility.
He said he never much liked guide dogs except as an excuse to meet women. He hated when little old ladies tried to help him cross the street. They would reach around him and push. "Thus," he said, "making both of us sight impaired."
He was an equal opportunity specialist at the Department of Health and Human Services, and his job was to safeguard the civil rights of minorities and the disabled. But sitting in a federal office building was never as satisfying, he said, as escaping into his serious extracurricular interests.
In 1991, he was honored at the Norwegian Embassy in Washington for his work with Ski for Light, which was modeled on a Norwegian program. The ambassador called him a "tireless champion of sports and recreation for the handicapped."
In his acceptance speech, Keith spoke about feeling limited professionally in his civil rights career. "The same opportunity has not been available for me professionally," he told the crowd of dignitaries. "So if this is where I get to be a boss for a little while, that's the way it is."
Speaking of the skiing organization, he said, "You see the tears when the week of skiing ends and people say, 'Well, it's time to return to the real world.' I try to communicate that Ski for Light is the real world."
Raymond Fred Keith, a fourth generation Washingtonian, was born November 20, 1939. He was attending a private school in Delaware when a classmate pierced his left eye with a nail. His right eye became diseased, and within eight months he was blind.
He was active in sports and drama at the Maryland School for the Blind in the 1950s and later became fascinated by bowling. He won several national blind bowling tournaments during the next two decades.
In 1965, three years after graduating from American University, he became a Peace Corps volunteer in Panama and taught at a school for the blind. Blind people have always been a rarity in the organization, a spokeswoman said.
Keith's personal travels took him from New Zealand to the Serengeti plain in Africa, and he deepened his involvement in athletics for the disabled. He said he preferred cross country to downhill skiing because downhill required complete obedience to a guide and was not relaxing.
In July 1981, he was one of 10 disabled adults chosen to scale Mount Rainier for what the United Nations dubbed the International Year of Disabled Persons. The climbers, including people who were blind, deaf, amputees and epileptic, were led by James Whittaker, the first American to reach the summit of Mount Everest.
Rainier is 14,410 feet high, and Keith collapsed at 12,500 feet after experiencing altitude sickness; his companions soldiered on and left him in a sleeping bag in an ice cave. But they were all feted that month by President Reagan, to whom the climbers gave an American flag and jelly beans during a White House Rose Garden reception.
The next year, Keith returned to Rainier and made it to 10,000 feet before 70 mph winds and pounding sleet and snow forced everyone to abandon the attempt.
In the mid 1990s, he married Billie Jean Hill, a legally blind woman, after what she wryly called their "whirlwind courtship of 13 years," and he wrote a memoir.
"Every so often I wonder how different things might have been if I had seen, but of course that can't be known," he wrote. "I imagine what the earth must look like from an airplane; I wonder if I could have become a well known athlete. . . . I wonder if I would have appreciated my life so much without the human interaction that blindness has facilitated."
"Would I have made so many friends, or would that lonely and socially inappropriate little boy that was accidentally blinded become a lonely and socially inappropriate sighted adult?"
Keith never had a title for his unpublished book, but friends had his disposition in mind when they suggested, "Don't Tell Me What I Can't Do!" and, more to the point, "Back Off."
Olav Pedersen 1917 – 2004
Olav Pedersen, Breckenridge pioneer, Dies at 87
By Jane Stebbins
Summit Daily News: Breckenridge, Colo.
June 18, 2004
Breckenridge lost a ski pioneer this week with the passing of Olav Pedersen, who died Wednesday morning, June 16th, at 87. Born in Voss, Norway, on Feb. 17, 1917, Pedersen first strapped on skis when he was 3, and began a life of competition in downhill racing and jumping. He won his first trophy ski jumping when he was 12.
*** insert read more tag ***
Nordic skiing was also a method of transportation in the snowy Norwegian mountains. He later used those skills to retrieve supplies dropped by parachutes from British planes during a stint in the Norwegian Resistance in the German occupation in World War II.
In 1955, Pedersen chaired the organizing committee for the Norwegian Nordic Ski Championships.
Pedersen, who retired from the railways in Norway and worked as a freelance journalist, wrote a story about Erling Stordahl, a blind Norwegian musician in 1952. A few years later, Stordahl told Pedersen he thought it would be intriguing to teach cross country skiing to blind people.
His vision took shape in 1963 as the Ridderrenn the Knight's Race which now annually hosts more than 1,000 disabled skiers and guides from more than a dozen nations.
In 1964, Trygve Berge and Sigurd Rockne invited Pedersen to join them in Breckenridge, where he taught alpine skiing at the Breckenridge Ski Area. He worked at the Rockne's The Mine restaurant and in construction for Sigurd in the summer months.
Like others, he fell in love with the mountains and made the town his home.
He met his wife, Suzanne, an art, speech and drama teacher, at a Christmas party. "What didn't catch my eye?" she said, remembering the night they met. "Every single woman in Summit County was after him. He had quite a following. He was a sweet man. Our friendship grew into a lasting love." The two were married on June 7, 1969, in the Father Dyer United Methodist Church, then located behind the Summit County Courthouse.
Yet, Pedersen is arguably best known for bringing to the United States Stordahl's idea of getting blind skiers out on the trails.
In 1973, he returned to Norway to seek Stordahl's advice, garnered support for the idea from the Summit County Lions Club and the Sons of Norway Foundation and founded Race For Light. King Olav V of Norway awarded Pedersen the Order of St. Olav in 1976.
On Pedersen's 58th birthday, 60 visually impaired skiers and their guides attended the first Race for Light in Summit County. That race received national publicity after Charles Kuralt featured it on his "On the Road" television series.
To shift the focus from racing to recreation and instruction, the name was changed to Ski for Light in 1976. The first regional program began in New England in 1977.
Ski For Light promotes the physical fitness of visually and mobility impaired adults.
Pedersen wasn't one to slow down. He coached the blind U.S. Ski Team, created the Frisco Gold Rush Citizen's Race, was a founding member of the Breckenridge Outdoor Education Center and participated in the Rocky Mountain Senior Winter Games and the Jimmie Huega Express benefit races. At 70, he won the national NASTAR alpine ski championship in his age group. He also coached elementary and middle school soccer and gardened well into his 80s.
After a fall from a roof that crushed his leg in 1980, Pedersen retired from downhill ski instruction and took up Nordic teaching at the Breckenridge Nordic Center.
He was inducted into Colorado Ski Hall of Fame in 1997 and the National Ski Hall of Fame in 2000. Last June, the Summit Foundation awarded him the Soul of the Summit Lifetime Achievement Award.
The Frisco Arts Council dedicated a Ski for Light, Art for Sight sculpture at Main Street and Summit Boulevard in 1997 to honor Pedersen's contribution to the sport. The sculpture, created by William Barth Osmundsen, features a sighted cross country skier leading a visually impaired skier.
He is survived by his wife, sons Terje and Arve Rauk of Norway, brother Bjarne, seven grandchildren and son Haakon of Breckenridge. He is preceded in death by two brothers.
In lieu of flowers, memorial contributions can be sent to Ski For Light, Inc., 1455 West Lake St. Minneapolis, Minn., 55408.
Bjarne Eikevik 1930 – 2000
Remembering Bjarne Eikevik
From the Ski for Light Bulletin, Spring 2000
by Bud Keith
At the end of January, a mix of excitement, joy and sadness filled the atmosphere as we gathered in Colorado to celebrate the 25th anniversary of Ski for Light. A close friend, Bjarne Eikevik, one of the founders of Ski for Light and its President from 1976 to 1981, died at home after a long battle with prostate cancer. So many of the early Ski for Light family were inspired by his constant smile, his unlimited energy, his belief that anything was possible, and his ability to make each of us feel important.
*** insert read more tag ***
Two weeks before he died, and knowing death was close, Bjarne told me how sad he was to miss attending SFL. He said that he had planned to bring his entire family to join in the celebration, and asked that his best wishes be extended to everyone present.
Bjarne gets the credit for promoting the recreational and relaxed style of SFL. He loved nature and how it could be enjoyed on skis. He quickly became an instinctive guide, and shared so well what he felt, saw and dreamed of.
Another founder of SFL, Tor Dahl, shared this about Bjarne: "It is such a joy to have known someone who thinks that everything is possible, and then helps make it so. Can you imagine a life better lived?"
Tor adds, "A poet wrote: Each one of us stands at the center of the earth lit by a sunbeam. And suddenly it is evening." And suddenly it was evening for Bjarne.
Bjarne taught us how to live. And in the end, he taught us how to die. Rest in peace, dear Bjarne. Rest in peace.
Bjarne Eikevik, a Personal Remembrance
by Liv Dahl
Sons of Norway Viking Magazine
March, 2000
On January 21, Bjarne Eikevik, former international president of Sons of Norway, passed away. He will be missed by friends in Sons of Norway and other organizations to which he contributed with vitality and creativity.
Bjarne was a native of Masfjord, Norway, where he was born in 1930. He served in the Norwegian military and the US. Coast Guard, married, and settled in Fort Lauderdale, Florida. His wife, Ruth, and their children, Bjarne Jr., Stevan, and Kari, have all been Sons of Norway members.
In his first president's column in Viking magazine in 1986, Bjarne stated his simple, but oh-so-effective philosophy: "Let's take a good thing and make it better " International President Penny Joseph Knudsen fondly remembers Bjarne for this expression, and another that was equally characteristic: "If it doesn't work, we will have to fix it.
He also served Sons of Norway as international vice president and as a chair and member of various committees. He was governor of the Sons of Norway Foundation, treasurer and vice president of District 3, and charter president of Lauderdale 3-475 in Fort Lauderdale.
Bud Keith, an early president of the organization Ski for Light, recalls that, "Bjarne epitomized the optimistic side of things." Bjarne saw the possibilities that the fledgling group, then known as Race for Light, represented and he proposed that the Sons of Norway Foundation adopt it as a project.
Never had I seen anyone present a vision with such clarity, enthusiasm, and persuasion. Bjarne understood that Ski for Light would offer opportunities not only to the visually impaired, but to Sons of Norway members, many of whom became financial supporters and guides for skiers. What a success story.
Bjarne was also the visionary who proposed that a heritage department be established at Sons of Norway. Because there was no longer a steady stream of immigrants coming from Norway to North America, he saw a need to assist members in keeping their ties to Norway strong and current. I was fortunate enough to be offered the job of organizing the new department, and I am forever thankful to Bjarne for the privilege, and for his guidance and friendship over the years.
Many will remember Bjarne from conventions where he inspired and called us all to action. Bud Keith says, "Bjarne focused on the interaction between people and often expressed how much better things could be if we all worked together." It is a simple and powerful concept, and we can all honor Bjarne by practicing it.
Bjarne was a founder and the first president of the Norwegian-American Chamber of Commerce (NACC) Southeast Chapter. Inger Tallalcsen, general manager of the NACC, says, "I want to express my devotion to Bjarne. How I admired his positive attitude, his cheerfulness, his willingness to pitch in and take on responsibilities. His zest for life and creativity were truly inspirational."
In 1982, Bjarne chaired the prestigious committee that hosted a visit by His Majesty King Olav V to Miami. Magne Hagen, cabinet secretary to King Olav and his son King Harald V, remembers Bjarne's efficiency and warmth. "His charisma won us all over, especially the king." In 1995, Bjarne was decorated Knight First Class of The Royal Order of Merit by His Majesty King Harald V.
Bjarne looked at life's events as a series of opportunities. My husband, Tor Dahl, former president of the Sons of Norway Foundation, had the pleasure of working with Bjarne in the 1970s. "It is such a joy to have known someone who thinks that everything is possible, and then helps to make it so," he says, Can you imagine a life better lived?
Takkfor alt, kjaere Bjarne – Thanks for everything, dear Bjarne.
From News of Norway, issue 4, 1997
"Mr. Ike" Florida's Norwegian American Booster
A well known Norwegian American personality in Fort Lauderdale, Florida, is "Mr. Ike" as everybody calls him. Bjarne "Ike" Eikevik is president and owner of the 47 year old Ike's Carter Pool Companies.
Apart from selling all sorts of swimming pool cleaning equipment and providing pool maintenance services, Ike is the founder and president emeritus of the Norwegian American Chamber of Commerce of South Florida. In this capacity, he has arranged valuable contacts between Broward County and Norwegian business leaders, including bringing the sales convention of Statoil the Norwegian oil company to Fort Lauderdale.
For his efforts to strengthen business and cultural ties between the United States and Norway, Ike was awarded the distinguished Knight's Cross, First Class of the Royal Norwegian Order of Merit by His Majesty King Harald of Norway in 1995.
News of Norway met Ike outside his shop in Fort Lauderdale, where he told the story of how he ended up in the United States with his booming business. "When I came here, nobody could pronounce my name Bjarne Eikevik. Eisenhower was the U.S. president in those days. He had the nickname "Ike," so when I bought Carter Pool Company I just put Ike in front of it, and that is why the company has this long name Ike's Carter Pool Companies," Mr. Ike says.
He grew up in western Norway in a small farming and fishing village called Masfjorden. As a young man, he had the chance to become a cadet on the Stasraad Lehmkuhl, a Norwegian windjammer. "It was one of the first trips after the war a six months' training course that got my interest up for going to sea," Ike recalls. After graduating from the Bergen School of Marine Engineering and the Schnitler School of Commerce, he served with the Norwegian Navy as part of the NATO Forces. "On a trip back from New York on board the old Stavangerfjord, I met my wife, who is of Norwegian descent. We got married, and after I finished the Norwegian Navy we decided we would try it in the United States," Ike says.
He was licensed by the United States Coast Guard and sailed as an officer during the Korean war, and afterwards sailed with the merchant marine. "As we started producing a family [Ike and Ruth Eikevik have three children], I was told 'you better find a job ashore,'" Ike says, and so he did. He recalls that in Florida in the fifties, most available jobs were in construction. "I found a job in one of the oldest swimming pool companies in the United States. It just so happened that the technology that I had from the engine rooms on board ships also fitted the technology for swimming pool construction the filters, the valves and the hydraulics, so I sort of got a way ahead," Ike explains. Ike bought the company in 1961 and built it into one of the leading full service pool companies in the southern part of "the sunshine state."
"I've also been lucky to have the opportunity to be involved in the local community," Mr. Ike tells News of Norway. "That is something I feel is very important. You cannot just take something out of the community, you have to put something important back in," he says. And indeed Bjarne Eikevik has put a lot of effort into voluntary work over the years. In addition to his involvement in the Norwegian Chamber of Commerce, he is past international president of Sons of Norway, of which he has been a member for 35 years. He was one of the U.S. founders of Ski for Light, which teaches blind people cross country skiing. Canoeing with the blind is a "warm weather" activity that Ike and friends started in Broward County; Ike's son Steve developed it into a national program known as "Sports for Health." In addition, Ike served on the board of the Landmark First National Bank of North Fort Lauderdale for 10 years, and as president of the Fort Lauderdale Sales and Marketing Executive Club.