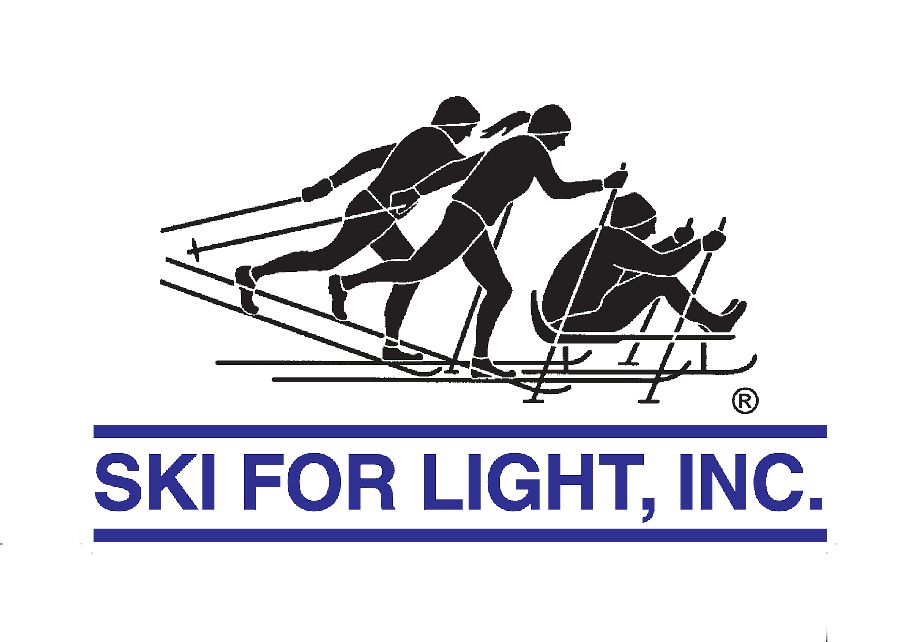 Ski for Light, Inc.®
Skiing. Sharing. Learning. The mission of Ski for Light is to enhance the quality of life and independence of visually or mobility-impaired adults through a program of cross-country skiing.
---
What is Ski for Light?
Ski for Light, Inc. is an all-volunteer non-profit organization founded in 1975 that teaches the basics of classic cross-country skiing to adults who are visually- or mobility-impaired, while giving participants who have already learned the basics of the sport the chance to improve their skills or to just have fun on the snow. All of this takes place during an annual week-long event at a U.S. location that changes from year to year, and is made possible by the volunteer sighted and able-bodied experienced cross-country skiers who attend as guides and instructors. But Ski for Light is much more than a learn-to-ski program. Here is a more complete Description of the Ski for Light Program and how it works.
Are You New to Ski for Light?
There are links to lots of information on this page for both sighted and visually- or mobility-impaired people who want to know more about us. See particularly the links under SFL Publications, News, History and Other Information further down the page.
If you are thinking about attending Ski for Light the best place to start may be to watch the Ski for Light video that was produced during the 2013 event in Michigan. It does a great job showing and telling the story of Ski for Light in an inspiring manner.
If you are thinking about attending Ski for Light as a visually- or mobility-impaired participant, you may also want to read the Information for Prospective First-Time Attendees. This provides much more information about the totality of the SFL experience, and the reasons why it is often described as a life-changing experience.
Also, check us out on Facebook, and please contact us with your questions at info@sfl.org
The 2016 Ski for Light International Week
The 41st annual Ski for Light International Week will take place from Sunday January 24 to Saturday January 30 in Northwest Lower Michigan on the grounds of Shanty Creek Resorts in Bellaire, Michigan. Located just 45 minutes from the Traverse City airport, Shanty Creek Resorts is a 4,500 acre complex containing three housing and entertainment villages, both cross-country and downhill ski trails, a tubing hill, several swimming pools and hot-tubs, a fitness center and spa, and much more. Shanty Creek Resorts is a true destination resort, with everything you might want right on the grounds.
Please be aware that:
The traditional Sunday to Sunday seven-day SFL week has been shortened to a Sunday to Saturday six-day event for 2016.
The week has been shortened for 2016 because trail congestion at Shanty Creek Resorts on weekends makes it unwise and unsafe to attempt to hold the race and rally on the usual Saturday, hence the race and rally will be held on Friday in 2016. This allows the week to be shortened by one day, with Saturday departure, as a test of whether or not a shorter event week, with the corresponding lower cost for the week, would be preferable for most participants. This is a one year test, to be thoroughly evaluated after the end of the 2016 event.
While the SFL week will conclude on Saturday morning, some attendees may choose to stay over one or more additional days as has sometimes been done in the past. Arrangements for additional nights at Shanty Creek can be made at SFL room rates through your applications coordinator. The resort's many regular facilities will be available to those staying over. Those staying over will be responsible for arranging activities and for all costs associated with the additional time including room, meals, activities, and transportation from the hotel to the airport.
If you have never before attended what many have called the experience of a lifetime, please read Information for Prospective First-Time Attendees to learn what the week is all about and how it works.
If you are a veteran of previous SFL events, please proceed directly to the Details of the 2016 Event to learn the details of the event and to access the easy-to-complete 2016 online application forms. We look forward to seeing you in Michigan!
Please note that as of November 24 we are continuing to accept guide applications for the 2016 event, and in fact could use a few more guides for the week. We are also continuing to accept applications from Visually- or mobility-impaired applicants, but such applicants should know that we will be able to accept them only if enough additional guides apply in the remainder of November and into December.
Information for Accepted Applicants
If you have received a notification of acceptance to the 2016 Ski for Light event, please proceed to the Information for Accepted Applicants page. Here, you may pay your event fee online with your Visa or Mastercard, read the 2016 Waiver of Liability and send us your acceptance of the terms described, read the travel information for the 2016 event and send us your travel plans, and read about special-interest sessions and let us know if you would like to lead such a session this year..
Looking Back at the 2015 International Event
View or download the Olav Pedersen Race and Rally results (MS Excel format) from the 2015 event.
Many people who attended the recently completed SFL 2015 event in Colorado have posted individual photos as well as photo albums to the SFL Facebook page. If you are not a follower, you may view the photos here If you have additional photos to contribute, or would like a copy of one or two photos from the site, Leslie Maclin, chair of the SFL Social Media committee, stands ready to assist you. Please write to her at LeslieMaclin@att.net
Ski for Light 40th Anniversary Song
Jim Salestrom, singer, song,writer and long-time friend of Ski for Light has written a song to celebrate Ski for Light's 40th anniversary. Thank you, Jim.
SFL Publications, News, History and Other Information
Stay in Touch With Ski for Light
Join the SFL Community Conversation on Facebook and LinkedIn
Subscribe to the SFL Listservs
Ski for Light maintains two electronic mailing lists for people who are interested in the activities and programs of the organization:
The SFL-Announce mailing list is a low traffic, announce only list used to send you timely information about Ski for Light events, activities and people. To subscribe to sfl-Announce send an empty e-mail message to sfl-announce-subscribe@sfl.org
The SFL-L mailing list is a general discussion list that provides a forum for individuals to exchange ideas and information about SFL programs, or about other sports and outdoor activities for persons with disabilities. Replies to list messages go to the entire membership of the list. To subscribe to sfl-l send an empty e-mail message to sfl-l-subscribe@sfl.org
Donate to Ski for Light
Ski for Light needs your financial support to keep the cost of the program affordable for all.
You may make your donation via regular mail or via secure credit card transaction from this website
Your gift may be designated for:


The general operating fund, our area of greatest need, which provides scholarships for blind and mobility-impaired skiers, pays for all event training and similar materials, and much, much more
The Marilou Goodfellow Fund, which provides stipends for volunteer guides and helps defray the costs of guide training
The Ski for Light Endowment Fund, which works to ensure that the program will remain available for future generations

Your gift may be made in honor or memory of someone special
You can become a Life Member of Friends of Ski for Light by donating $400 or more to the Endowment Fund. To see the list of life members, click here.
Learn how to make a special Planned Gift to Ski for Light
Continue to the Ways to Donate page.
Contacting Ski for Light
For general information about Ski for Light, send an e-mail message to: info@sfl.org.
To contact an officer or board member of Ski for Light by e-mail please go to the SFL Board roster.
Other Events of Interest
Regional Roundup
A calendar of upcoming regional events, events of shorter duration held in various locations throughout the U.S.
The Ridderrenn
The Norwegian event upon which Ski for Light is modeled. The next Ridderrenn, the 53rd annual event, will take place April 3 - 10, 2016 in Beitostolen, Norway
Ski for Light Canada
The 37th annual SFL Canada event will take place February 1 - 7, 2016 at William Watson Lodge in Kananaskis, Alberta.
---
Ski for Light is very grateful for the support of the Sons of Norway and our corporate sponsors.
---
Ski for Light, Inc. is a supporting organization member of the Cross Country Ski Areas Association (CCSAA).
Ski for Light, Inc. is registered with the IRS as a 501(c)(3) tax-deductible organization (ID #51-0175938).
Ski for Light, Inc. supports full disclosure and accountability for nonprofit corporations and is registered with GuideStar®.
---
Ski for Light, Inc.
1455 West Lake Street
Minneapolis, Minnesota 55408
(612) 827-3232
info@sfl.org
---
Ski for Light, Inc. is a registered trademark. All rights reserved.
Last updated on November 24, 2015