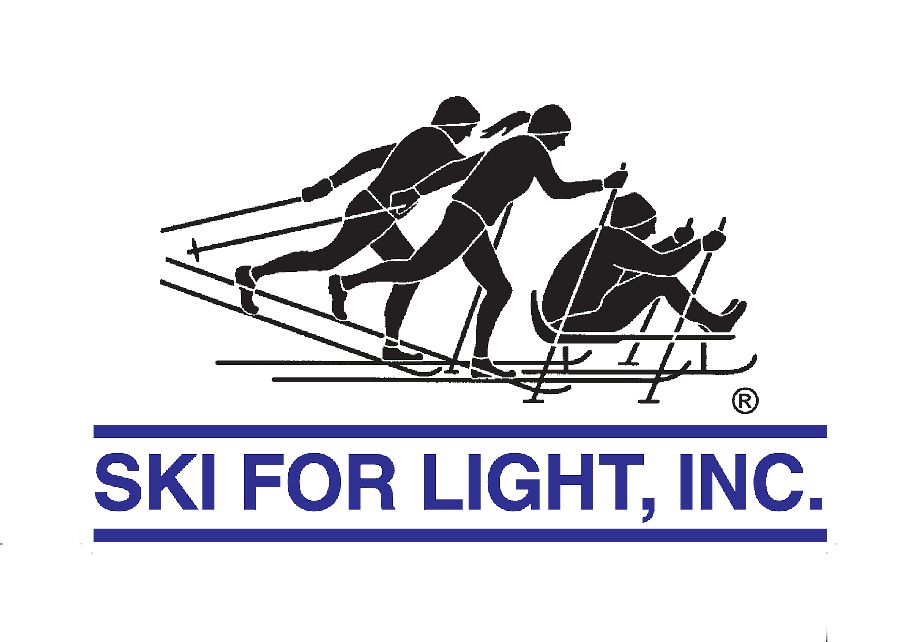 Ski for Light, Inc.®
Skiing. Sharing. Learning. The mission of Ski for Light is to enhance the quality of life and independence of visually or mobility-impaired adults through a program of cross-country skiing.
---
What is Ski for Light?
Ski for Light, Inc. is an all-volunteer non-profit organization founded in 1975 that teaches the basics of classic cross-country skiing to adults who are visually- or mobility-impaired, while giving participants who have already learned the basics of the sport the chance to improve their skills or to just have fun on the snow. All of this takes place during an annual week-long event at a U.S. location that changes from year to year, and is made possible by the volunteer sighted and able-bodied experienced cross-country skiers who attend as guides and instructors. But Ski for Light is much more than a learn-to-ski program. Here is a more complete Description of the Ski for Light Program and how it works.
Are You New to Ski for Light?
There are links to lots of information on this page for both sighted and visually- or mobility-impaired people who want to know more about us. See particularly the links under SFL Publications, News, History and Other Information further down the page.
If you are thinking about attending Ski for Light the best place to start may be to watch the Ski for Light video that was produced during the 2013 event in Michigan. It does a great job showing and telling the story of Ski for Light in an inspiring manner.
If you are thinking about attending Ski for Light as a visually- or mobility-impaired participant, you may also want to read the Information for Prospective First-Time Attendees. This provides much more information about the totality of the SFL experience, and the reasons why it is often described as a life-changing experience.
Also, check us out on Facebook, and please contact us with your questions at info@sfl.org
The 2015 Ski for Light International Week
The 40th annual Ski for Light International week will be held in Granby, Colorado from Sunday January 25 through Sunday February 1, 2015. We will stay at The Inn at Silver Creek and ski at nearby Snow Mountain Ranch
This will be the ninth Ski for Light event held in Granby since 1992. We have returned again and again because the combination of great skiing and a comfortable event hotel found in Granby is hard to beat anywhere else. The Inn at Silver Creek offers more than 200 rooms, an indoor/outdoor swimming pool, both indoor and outdoor hot-tubs and plenty of convention and meeting space for our needs. Snow Mountain Ranch, near Winter Park and part of the YMCA of the Rockies, has 100 kilometers of wide and wonderfully groomed trails. It is consistently rated one of the top Nordic venues in the country.
If you have never before attended what many have called the experience of a lifetime, please read Information for Prospective First-Time Attendees to learn what the week is all about and how it works. If you are a veteran of previous SFL events, please proceed directly to the Details of the 2015 Event to learn the details of the event and to access the easy-to-complete 2015 online application form. We look forward to seeing you in Colorado!
Information and Forms for Accepted Applicants
If you have been notified by your applications coordinator that you have been accepted as an attendee for the 2015 event, you can take care of a number of items related to your attendance on the Information and Forms for Accepted Applicants page. You can make your payment online with your credit card, sign up to lead a Special-Interest session, and let us know how and when you will be arriving in Colorado.
Please also visit the 2015 Event Podcast Center to hear MP3 recordings about various aspects of the week that should be both informative and interesting to all event attendees.
Updated SFL Guide Handbook
An update of the Ski for Light Guide Handbook for 2014 - 2015 is now available for reading or downloading at www.sfl.org/event/sflguidehandbook14.pdf. The twenty-four page booklet contains a wealth of general skiing tips, SFL-specific terminology, a standard progression of instruction for beginners, and other information to help new guides approach their first event with confidence, and to help everyone ski together more safely and enjoyably. all registered guides for the 2015 event in Granby will receive a printed copy in the mail.
Looking Back at the 2014 International Event
SFL Publications, News, History and Other Information
Stay in Touch With Ski for Light
Join the SFL Community Conversation on Facebook and LinkedIn
Subscribe to the SFL Listservs
Ski for Light maintains two electronic mailing lists for people who are interested in the activities and programs of the organization:
Donate to Ski for Light
Ski for Light needs your financial support to keep the cost of the program affordable for all.

Ways to Donate page.
Contacting Ski for Light
Other Events of Interest
---
Ski for Light is very grateful for the support of the Sons of Norway and our corporate sponsors.
---
Ski for Light, Inc. is a supporting organization member of the Cross Country Ski Areas Association (CCSAA).
Ski for Light, Inc. is registered with the IRS as a 501(c)(3) tax-deductible organization (ID #51-0175938).
Ski for Light, Inc. supports full disclosure and accountability for nonprofit corporations and is registered with GuideStar®.
---
Ski for Light, Inc.
1455 West Lake Street
Minneapolis, Minnesota 55408
(612) 827-3232
info@sfl.org
---
Ski for Light, Inc. is a registered trademark. All rights reserved.
Last updated on January 21, 2015